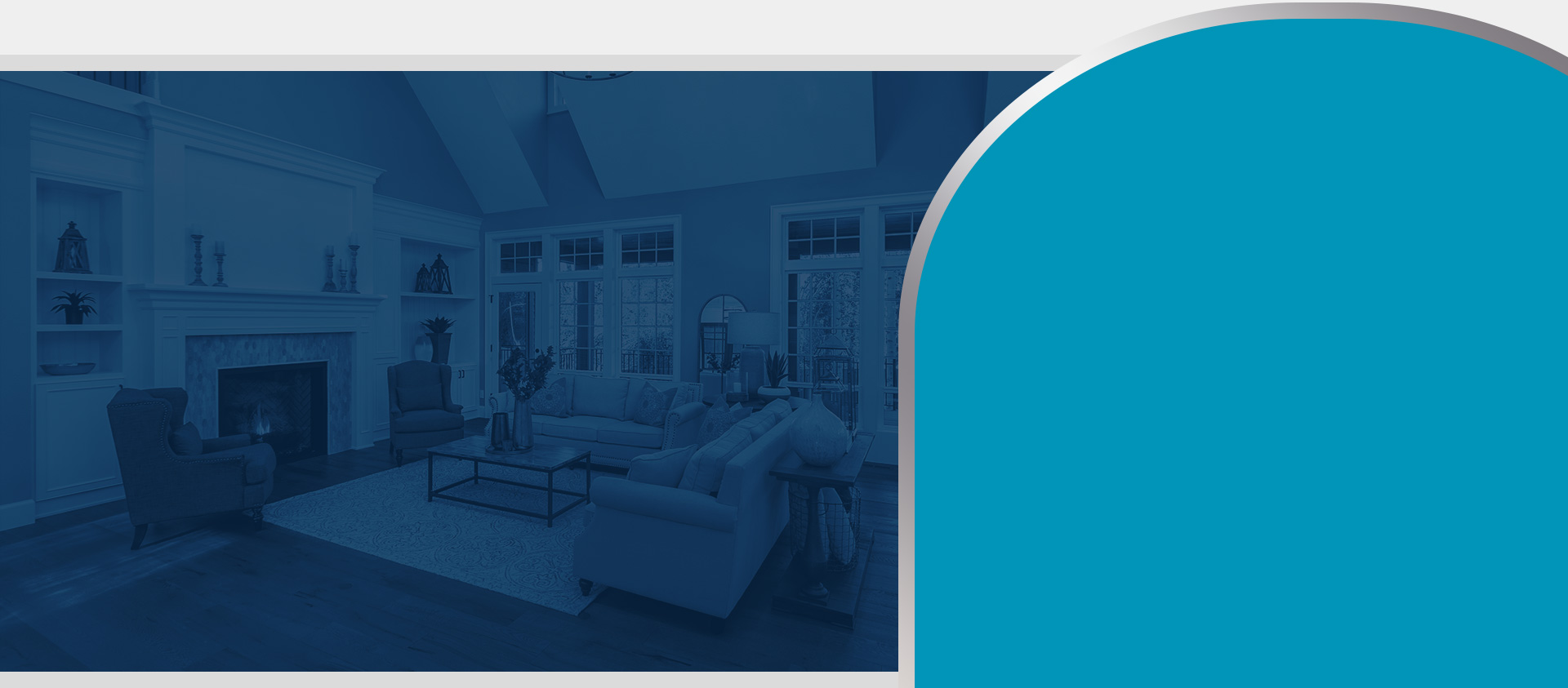 conventional hvac air filters
One of the main objectives of your heating and air conditioning (HVAC) system is to help maintain indoor air quality through adequate filtration and ventilation. Proper air filtration and care for your HVAC system will result in improved efficiency and indoor air quality. This section will focus on helping you select the air filter that is suitable for your heating and air conditioning system, and for the health of your family. If you live in a city like Chino Hills, Corona, Yorba Linda, or Rancho Santa Margarita odds are you live in a "tight-home." This implies that your home was designed, for efficiency purposes, to keep the air inside from escaping, it's airtight (i.e. a tight-home).
This is great for efficiency purposes but has brought unforeseen problems. For example, the EPA states that the air in your home is 7-10 times more polluted than the air outside. By trapping the air, your home is also trapping contaminants, producing a high concentration of pollutants in your home. Families with special health concerns or people with weak immune systems, such as small children or the elderly, are in special need of high indoor air. Similarly, for people with allergies, respiratory sensitivity, which smoke or own pets, finding the right air filter is of vital importance. Air Care Heating and Air Conditioning is mindful of this, which is why we carry an assortment of filters that is sure to meet the needs of you and your family.
choosing the proper air filter for your Mission Viejo hvac system
There are 3 primary considerations when choosing a household air filter. Different types of air filters have different capabilities. Performance is determined by the size and density of the filtration element used, as well as the size and volume of the particles being caught. Refer to the information below to determine which type of air filter best meets your needs.
Filter Size
Size is the easiest factor to determine. Simply look at the label of your existing air filter most have the dimensions printed right on them. If your current air filter does not display the size you can measure it. Most HVAC air filters are 1" thick, but there is an assortment of width and length dimensions.
Filtration Material and MERV Rating
Air filters are assigned filtration efficiencies using a number between 1 and 16 called the MERV rating, MERV stands for Minimum Efficiency Reporting Value. The number tells the homeowner how well the air filter is designed to trap contaminants under the least suitable conditions. As a reference, these chart below displays typical MERV ratings and how they correspond to efficiencies. This is only a guide, be sure to read the filter manufacturers' information when shopping for specific filters.
Filtration Efficiency Chart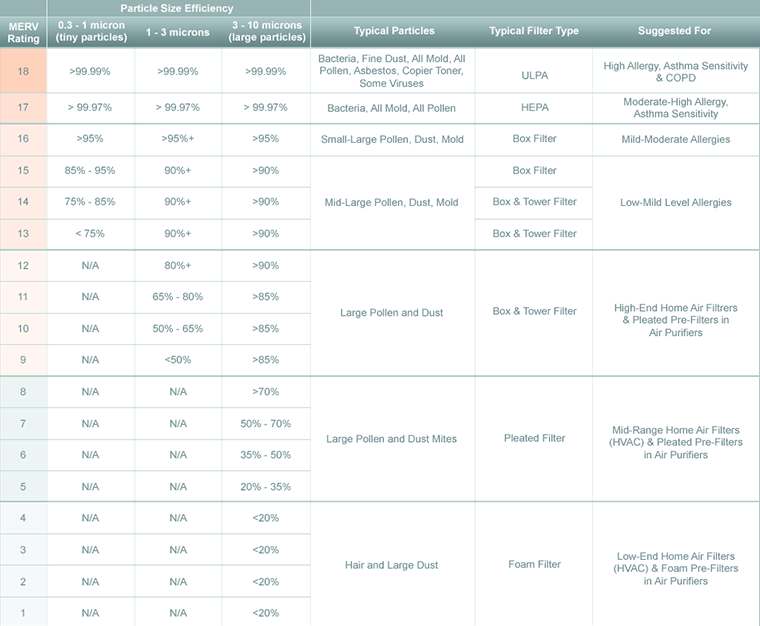 improve your indoor air quality (iaq)
You can begin to improve the air quality in your home instantly simply by changing or upgrading your air filter. There are different factors to consider when deciding which air filter to buy. The type of air filter you need depends on the types of pollutants in your home and the sensitivity of your family members to those contaminants. Some air filters need to be changed or cleaned monthly while others last several months. If you have pets, someone in your home smokes, or live in a heavily polluted area you should change your filter more often.
high merv ratings may not be a good thing
While a higher MERV rating may provide better filtration, it is important to understand that it could also affect your heating and air conditioning system's energy consumption. High MERV ratings restrict air may flow through your HVAC system, which makes your system work harder to heat or cool your home. The goal is to get the best balance between air flow and air filtration level to maximize energy efficiency (we can help you evaluate this).
A safe bet for most HVAC systems is a MERV rating between 6-8. A higher MERV rating should only be used on the advice of an HVAC professional to ensure your system can move the proper amount of air through the higher efficiency air filters. You do not want to sacrifice energy-efficiency over filter efficiency, however, if someone your household suffers from allergies or respiratory problems and requires a high-efficiency air filter, consider an air filtration system that will meet your energy AND filter efficiency needs.
Filtration systems have changed considerably, especially in the last decade with the discovery of important IAQ problems. Initially, air filters were only used in the furnace or air handler to protect the equipment itself; indoor air quality wasn't even a consideration. Today, homeowners expect their air filter to protect their family from a host of harmful IAQ pollutants and dust.
Same-Day Services Available Get comfort fast with our fast, experienced team.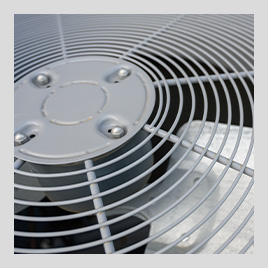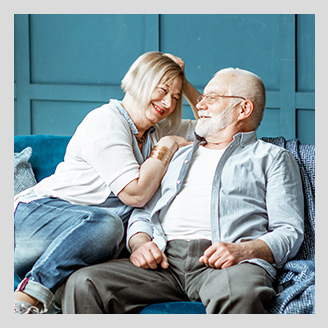 "I'd be happy to use them again."

- Gaylord

"This company is amazing"

- Mason W.

"Thank you for making this a seamless process for it being my first time ever going through this."

- Jessica S.
service your hvac system and air filter
Your central air system is designed to provide you with cold air during the summer and heat during the winter. If your HVAC system is not serviced regularly it can also work to spread allergens, pollutants, and dirt throughout your home. These contaminants have adverse effects on the health of your family ranging from watery eyes and constant sneezing to headaches and fatigue, and they can also worsen allergies & asthma.
If you live in a city with high levels of humidity, like Chino Hills, Corona, Rancho Santa Margarita, or Yorba Linda, it can even aid in the growth of microbiological agents since dirty and poor quality air filters retain moisture. The task of keeping the air in your home clean can appear overwhelming, even unsolvable. But there is an answer and Air Care can help you find it. We provide you with practical, economical, and effective ways to clean the air in your home and protect the comfort and health of your family.
The first step is to maintain your HVAC equipment. Routine replacing your HVAC filter can alleviate most of these problems. You must also ensure your ducts are free of defects like leaks and tears. If you're considering the improving the quality of your air, a great place to start is by having your system evaluated by a knowledgeable professional; Air Care can help. We offer complimentary evaluations on the replacement of ducts and the quality of your indoor air.
If you're in Yorba Linda, Corona, Rancho Santa Margarita or a surrounding city give us a call today and one of our HVAC Technicians will help you determine which electronic air filter is best for you.