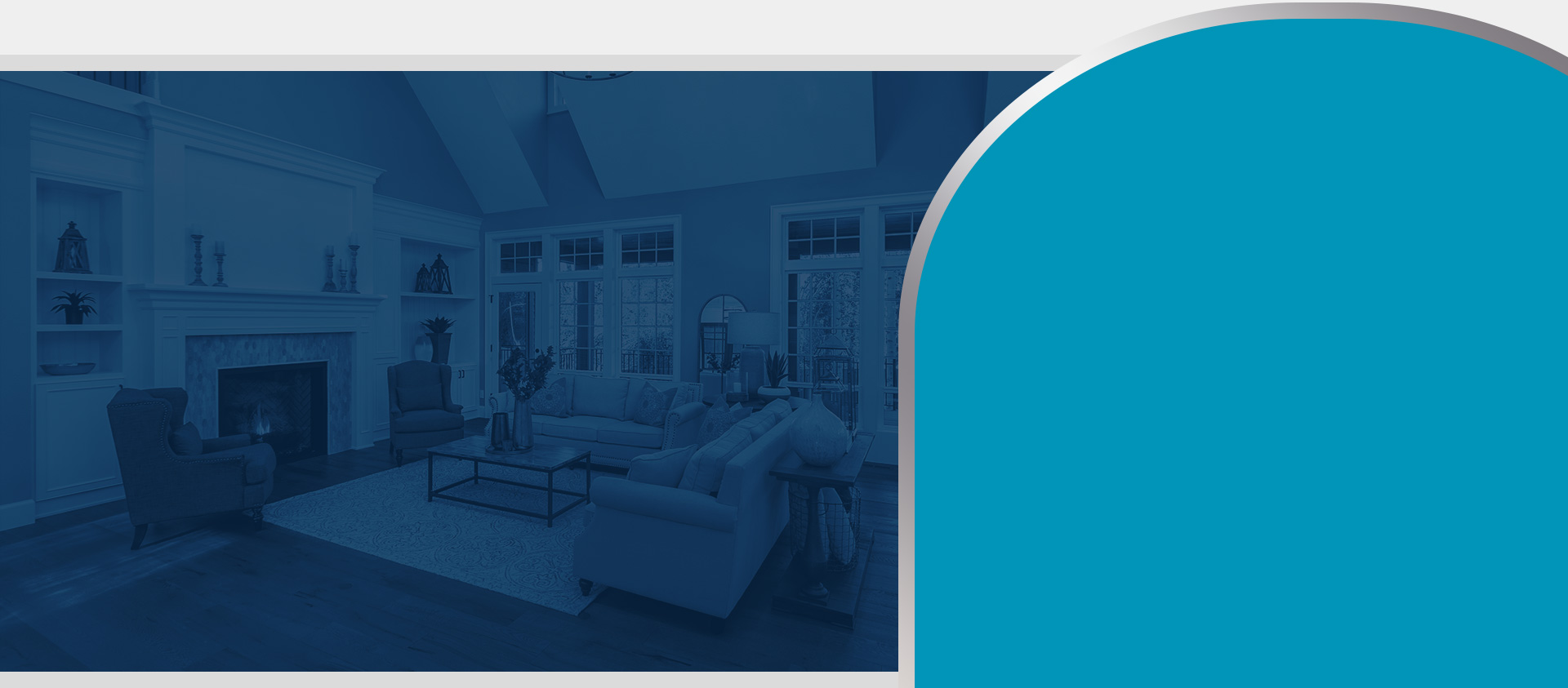 detect iaq problems at home
detect indoor air quality problems
Take a deep breath; hold it in; now slowly exhale. Do you get the impression the air is as fresh as it could be? If you're like most homeowners in Chino Hills, Corona, Yorba Linda, Rancho Santa Margarita, and the surrounding areas, the answer is probably no. If you're like most people, you've probably spent little time thinking about air. Breathing is one of those things most people just take for granted, much like the rising of the sun. However, like the rising of the sun, the quality of the air in your home is vital to the health and comfort of your family.
It is somewhat absurd that so much focus is placed on living healthy lives by eating organic, chemical free, foods but no one considers the impact air has on the health of their families. In cities like Chino Hills, Corona, Yorba Linda, and Rancho Santa Margarita people spend about 90% of their time indoors, and about 65% in their home. All this time indoors exposes them to a concentrated assortment of contaminants, including allergens and pollutants such as pollen, asbestos, mold, and pet dander.
Understandably, these pollutants and allergens can have adverse effects on your health, ranging from itchy eyes and constant sneezing to headaches and fatigue, and they can also worsen allergies & asthma. Fortunately, there are many effortless actions you can take to significantly improve the quality of your air. If we cannot service your non-operational heating and air conditioning system within 24 hours, your visit is FREE! Yes, we mean free as in no charge, no fee, no cost, no catch!
what causes poor indoor air quality?
Aside from keeping known allergens and pollutants out of your home, there are numerous ways to keep the indoor air fresh. At the top of the list is letting fresh outdoor air inside, which can be done most easily by opening up the windows and doors at regular intervals (even during bone-chilling winters and blazing hot summers). Using organic cleaning products can help cut back on the toxins in your home substantially, Stay away from citrus and pine-based solvents which can react with O-Zone to form formaldehyde. It is also a good idea to stop using pesticides in your garden, as they are easy to track in on shoes and clothing. It is also important to clean or replace your air filters and air distribution system, as pollutants can be cycled through your home by your heating and air conditioning system.
The chart below lists common symptoms from poor IAQ and possible sources.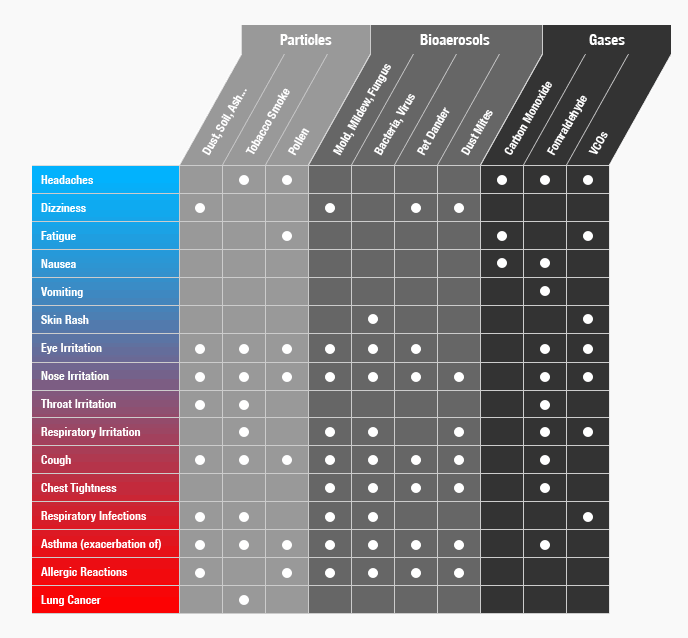 manage your indoor air quality
Indoor air quality can be easy to manage once you understand how it works and where it comes from. Looking at the chart above gives you some idea of the more common sources of indoor air pollutants. Most of the time, it comes from chemicals that are part of the things of everyday life. The polyurethane common in mattresses and clothing, formaldehyde, organic chemicals like dioxin, polychlorinated biphenyl (PCB) and polybrominated biphenyl (PBB) used in furniture and carpet are all harmful to us humans. Drapes, rugs, and other absorbent fabrics can help trap these toxins, along with dust mites and other allergens. The fact that most homes in Orange County and the Inland Empire are "air tight" means that once these allergens and chemicals make it into your home, it's going to be hard to get them out.
Tips to help control indoor air pollutants
Test for radon and fix if there is a problem.
Reduce asthma triggers such as mold and dust mites by cleaning frequently and using a HEPA vacuum.
Do not let people smoke indoors.
Keep all areas clean and dry.
Clean up any mold and get rid of excess water or moisture.
Always ventilate when using products that can release pollutants into the air; if products must be stored following use, make sure to close tightly.
Inspect fuel-burning appliances regularly for leaks, and make repairs when necessary.
Consider installing a carbon monoxide alarm in every room and on every fuel burning appliance.
Consider adding radon-reducing features to your home.
Test for lead and have it removed by a professional.
Provide proper drainage and seal foundations in new construction.
Consider installing a mechanical ventilation system. Mechanical ventilation systems introduce fresh air using ducts and fans, instead of relying on holes or cracks in the walls and windows.
Upgrade the filter in your home.
Test for asbestos and have it professionally removed.
When installing new appliances (like furnaces) make sure they are installed properly with a good vent or flue.
Same-Day Services Available Get comfort fast with our fast, experienced team.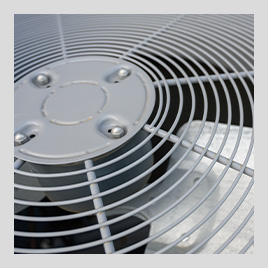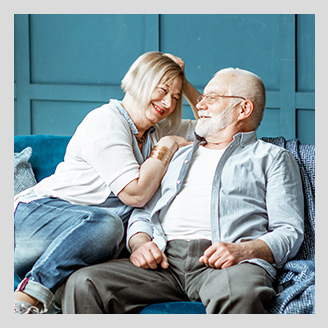 "I'd be happy to use them again."

- Gaylord

"This company is amazing"

- Mason W.

"Thank you for making this a seamless process for it being my first time ever going through this."

- Jessica S.
There is no doubt that Indoor Air Quality has an enormous impact on your health, and the health of your family. Neglecting IAQ is like neglecting to eat healthy; it will inevitably have adverse effects on your health, if it hasn't already. At some point in your quest to improve your indoor air you may feel overwhelmed and frustrated, but there is no need for that. If you are in Chino Hills, Corona, Rancho Santa Margarita, Yorba Linda, or one of the surrounding cities give us a call. We can help you solve the indoor air puzzle. One of our expert HVAC technicians will be happy to sit down with you and your family to discuss your indoor air needs and help you find the IAQ system for your home and budget. We take pride in working hard to ensure not only affordability, but quality and complete customer satisfaction as well.
If you're in Yorba Linda, Rancho Santa Margarita, or a surrounding city, call us today, and one of our HVAC Technicians will help you breathing fresh air before you can say polybrominated biphenyl!