Are you planning on buying a new thermostat for your home? If so, there are a variety of thermostat options on the market today including the Nest E and Nest 3 thermostats but the BIG question is which thermostat is right for you?
In this article, we will break down both thermostats so you will know which is the right one for your home.
Nest 3 Vs. Nest E Thermostat Explained
The Nest Self Learning Thermostat is not only easy to install, but it's also easy to operate. This is because it does all the work for you. All it requires is a quick setup, which most users can complete in less than thirty minutes (professional installation services are available if you prefer). Users just answer a few easy questions and Nest starts learning.
The system is automated, so you can set it to what temperature you want and what your schedule is. The thermostat adjusts for your particular type of system (forced air, dual pump, etc.) for optimal performance. As a bonus, the system learns when you're away and automatically adjusts itself to save energy.
Nest personalizes its features for you. After it learns about you and your home, Nest Sense™ automatically balances comfort and energy savings. If you tell the system that your wake-up time is 6 a.m., Nest will kick on and adjust to the temperature of your preference by that time.
Effortlessly Set Your Temperature From Anywhere
For your added convenience, the Nest system comes with built-in Wi-Fi for easy management from your phone, tablet, or PC. The advantage of any smart device is the internet connection which enables you the ability to change the temperature from anywhere.
Adjust your settings while you're away, check your schedules, or view energy usage over a period of time. The easy-to-read interface makes comparing energy savings simple. As a bonus, Nest will also send you an email each month detailing your usage and how the changes are affecting your bottom line.
It is an energy management system that works for you. More than a standard thermostat, the Nest is as simple as plug it in, tell it what you want and let it start learning how to save you money. Lowering your thermostat a few degrees from your usual setting can translate into energy savings.
Attractive Design and Easy to Read
Visually the Nest is not only easy to use, but it is also attractive. Simple turns of a large convenient dial display make it easy to read with uncomplicated numbers on the display screen.
An icon of a leaf will appear when you're saving money on energy to help guide you towards better habits. As you set your preferences over time, the system remembers and begins automatically adjusting to your needs.
Best of all…
The designs are sleek and unobtrusive. Both thermostats are aimed at saving you money but have a few distinct differences.
Let's look at a side-by-side comparison of the two Nest thermostats.
Comparison of Nest Thermostat E and Nest 3rd Gen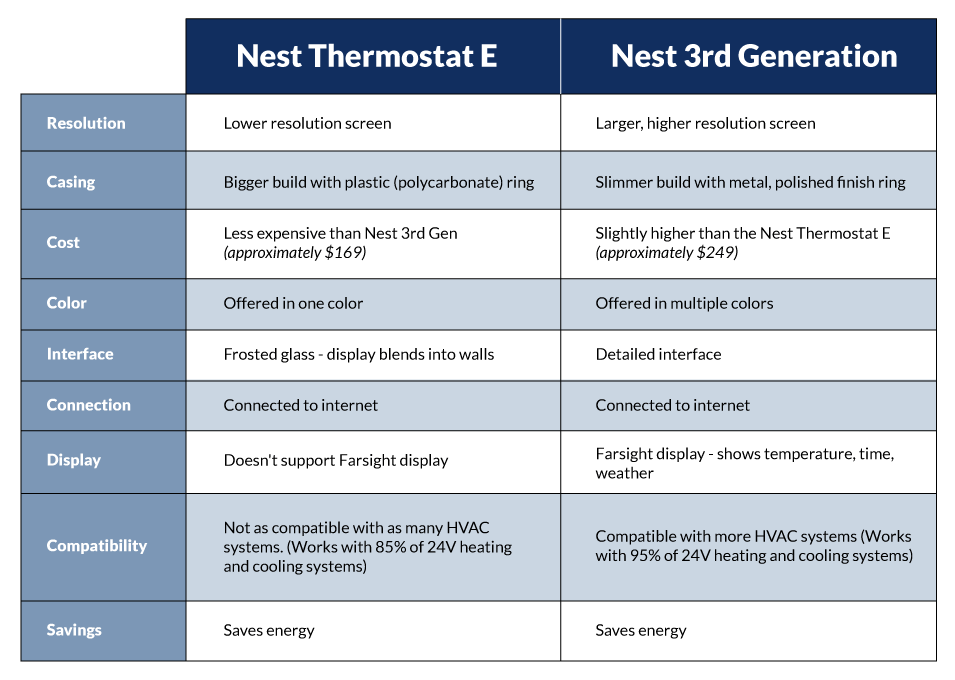 The Nest thermostats are proven to save you money. According to two independent studies and a third study performed by Nest – from "real homes with real families and real thermostats,"
The energy savings are expected from automatically adjusting the temperature when people are not home or sleeping at night.
Conclusion
Both thermostats, the Nest E and Nest 3rd Generation are designed to keep your home comfortable and save you money.
At Central, we are dedicated to keeping you warm in the winter and cool in the summer. And be in control of your home's temperature while saving money.
Contact Air Care Heating and Air Conditioning
For more information about the Nest Thermostat, or to speak with us about our HVAC services, contact us today by calling (949) 482-2911 or click here!